MoxxiVision v2 is part of the MoxxiMod add-on and is a dynamic RGA management tool. Each page features different data that is collected in real time from every account on the RGA. MoxxiVision 2 includes more than 300 columns of data per char and for 75-man RGAs more than 30,000 total data-points!
RELEASE DATE: TBA
PAGE 1: DATA THAT UPDATES REGULARLLY INCLUDING NUMBER OF ITEMS EQUIPPED (EQ), GROWTH, CURRENT RAGE, NUMBER OF TURNS UNTIL RAGE IS MAXED, STRENGTH, SUPPLIES. ALSO, A HELPFUL ONE-CLICK BUTTON TO MAX SUPPLIES ON ALL CHARS.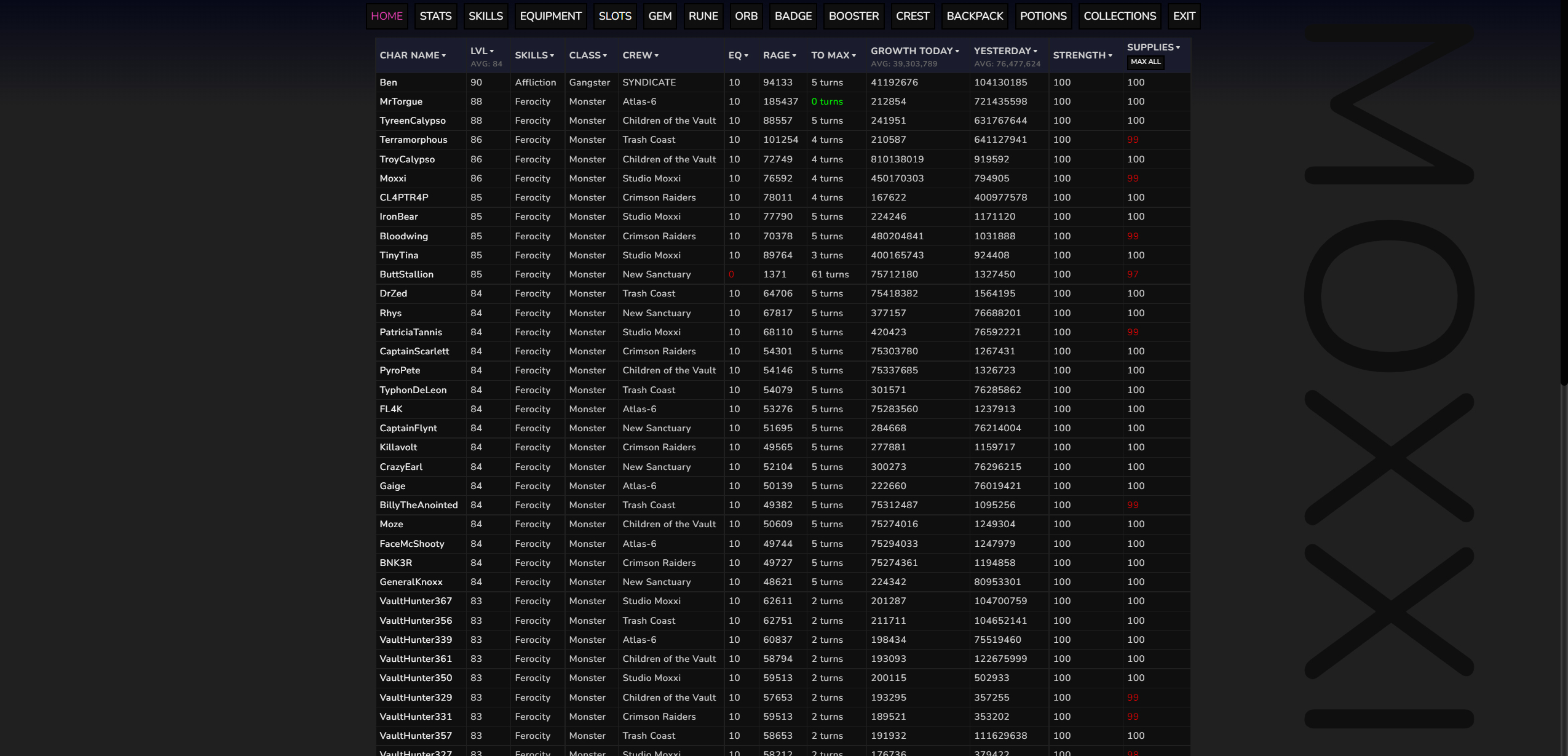 PAGE 2: MOSTLY STATIC INFORMATION. THE BASIC STATISTIC FOR EVERY ACCOUNT.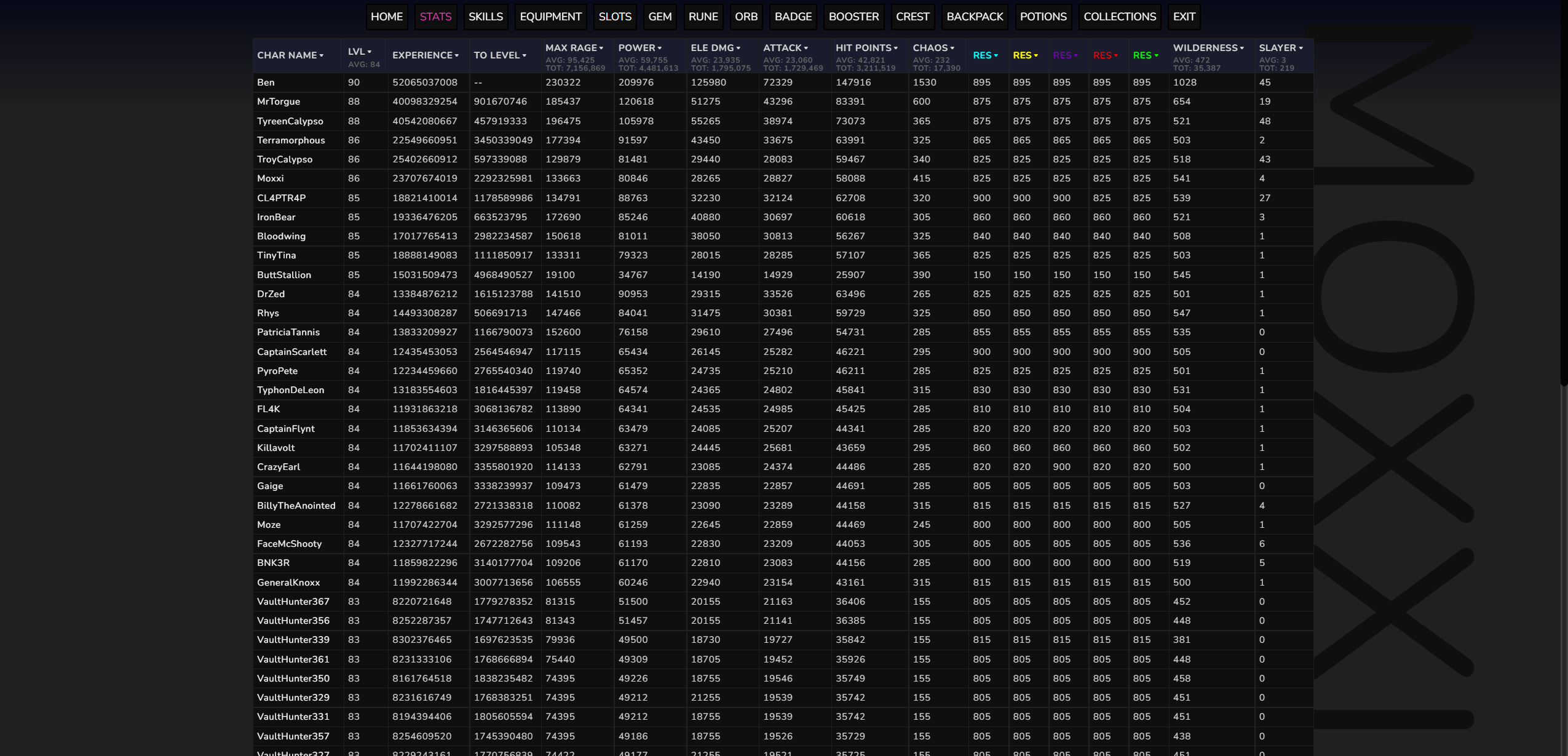 PAGE 3: ACTIVE SKILLS CAST AND INDICATION WHETHER OR NOT THE ACCOUNT HAS TOME SHIELD WALL SKILL.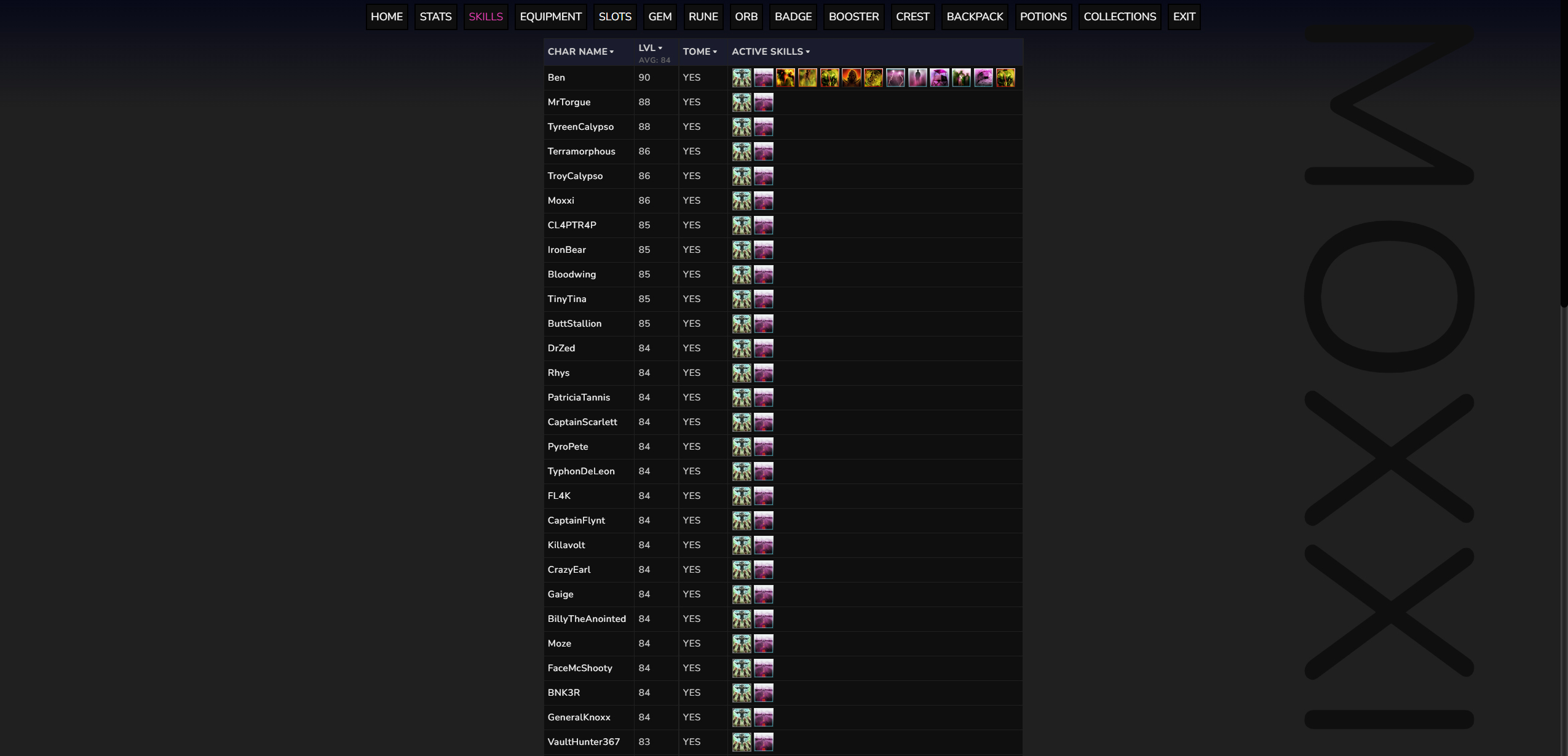 PAGE 4: ALL EQUIPMENT ON THE RGA INCLUDING BOOSTERS. ALSO DISPLAYS WHETHER OR NOT THE SET IS FULLY CLONED AND HOW MANY OPEN AUG SLOTS ARE ON THE CHAR.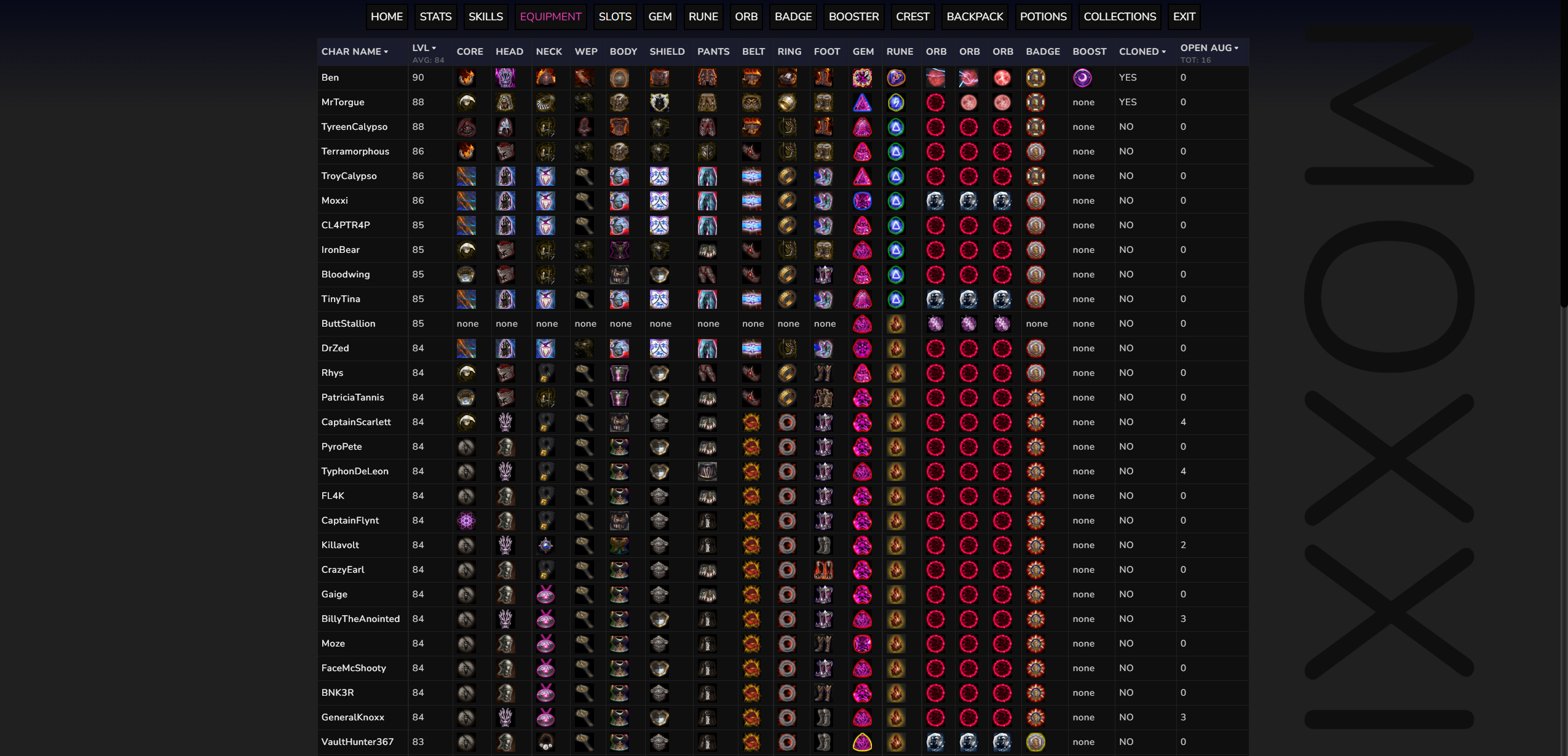 PAGES 5 - 14: A PAGE FOR EVERY STAT ON EVERY SLOT. PAGES ALSO INCLUDE THE NUMBER OF TOTAL GEMS AND OPEN AUG SLOTS. THE MR-UP STATISTIC IS A FORMULA THAT CALCULATES THE AMOUNT OF MAX-RAGE-PER-POINT YOU WILL GAIN IF YOU ADD A GEM TO THE ITEM. THE HIGHER THE MR-UP NUMBER, THE CHEAPER THE ITEM IS TO GET MAX RAGE GAINS THROUGH GEMS.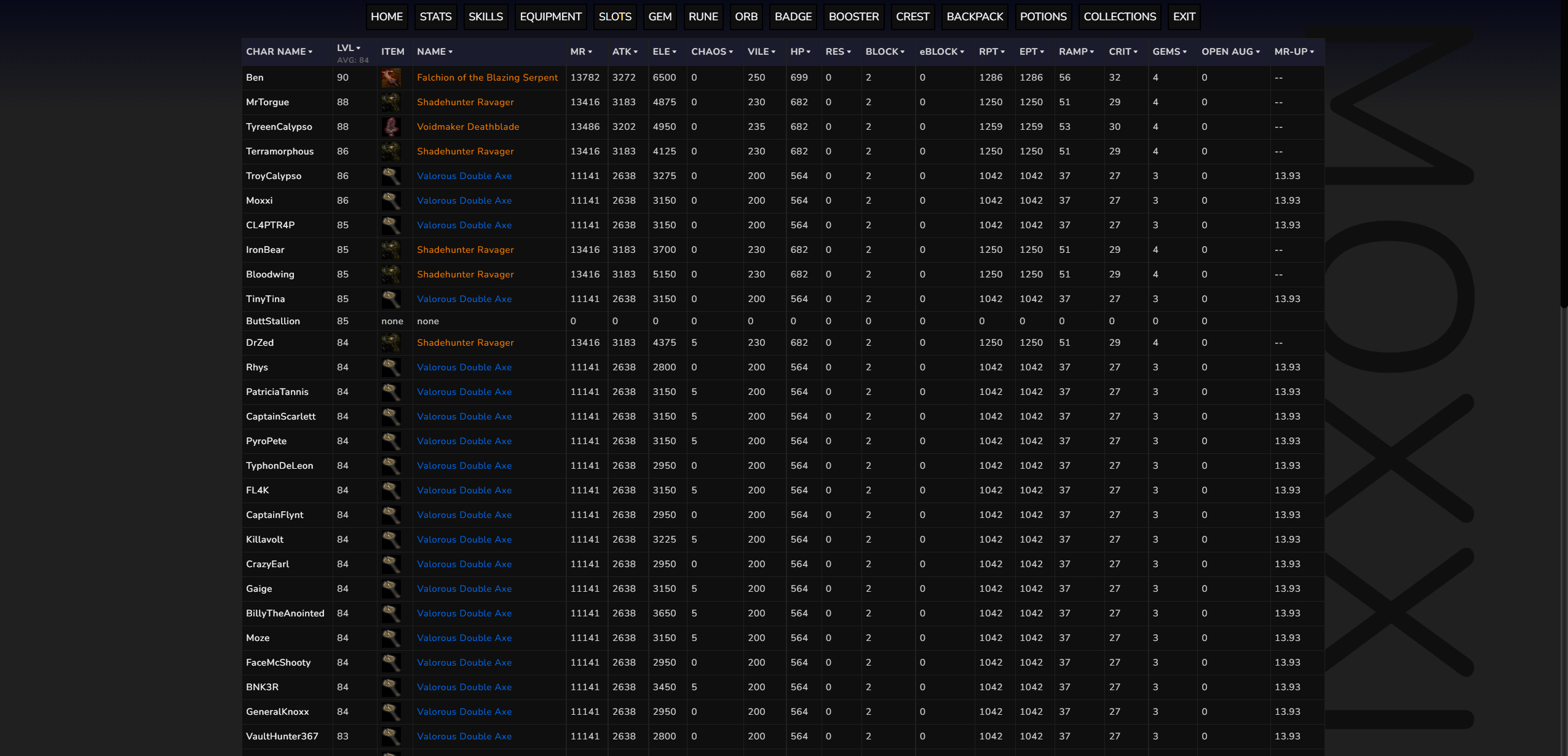 PAGE 15: CHAOS GEM DATA INCLUDING THE NUMBER OF CHAOS ORE AVAILABLE. THIS PAGE ALSO TRACKS GOLEMS AND INDICATES WHEN THEY ARE ALIVE. ON THE BOTTOM-LEFT IS A HELPFUL TOOLBAR THAT PROVDES LISTS OF CHARS IN O.W.H. FORMAT THAT CAN BE QUICKLY COPY AND PASTED TO UPGRADE GEMS OR ATTACK GOLEMS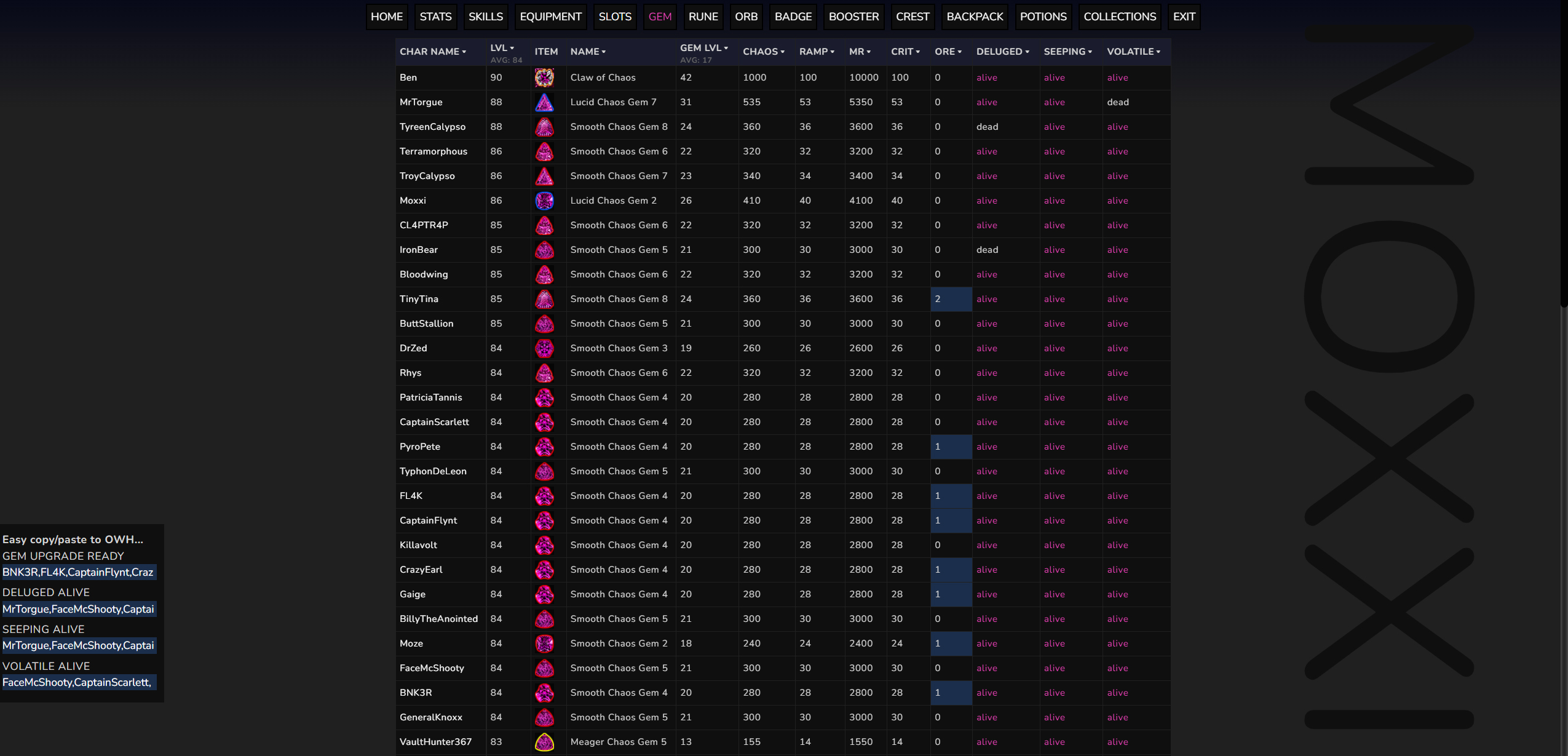 PAGE 16: ELEMENTAL RUNE DATA INCLUDING THE NUMBER OF FUSERS, ESSENCES, ORBSTONES, AND HEARTS AVAILABLE. BOTTOM-LEFT TOOLBAR PROVIDES QUICK COPY/PASTE LISTS FOR RUNE UPGRADES.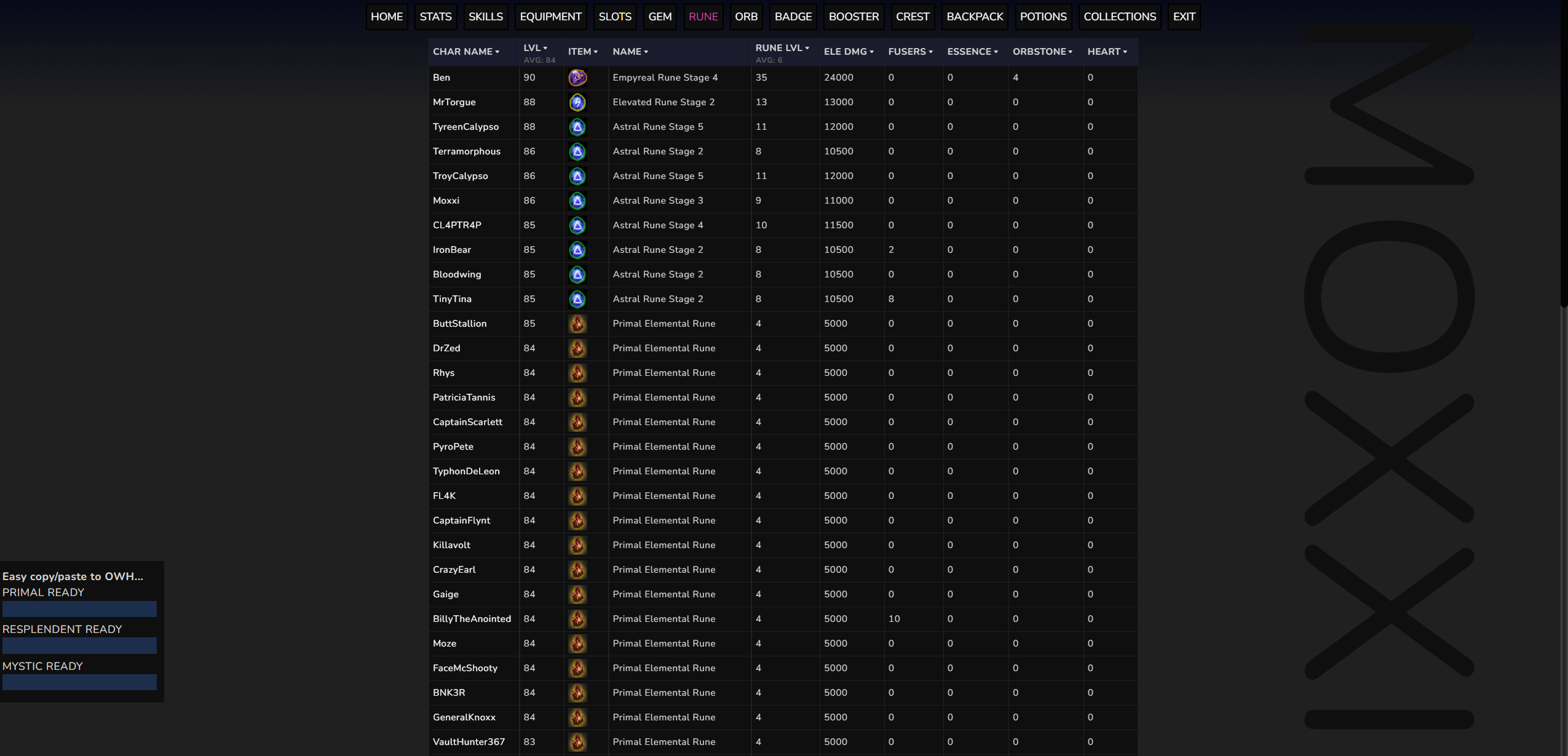 PAGE 17: ORB DATA.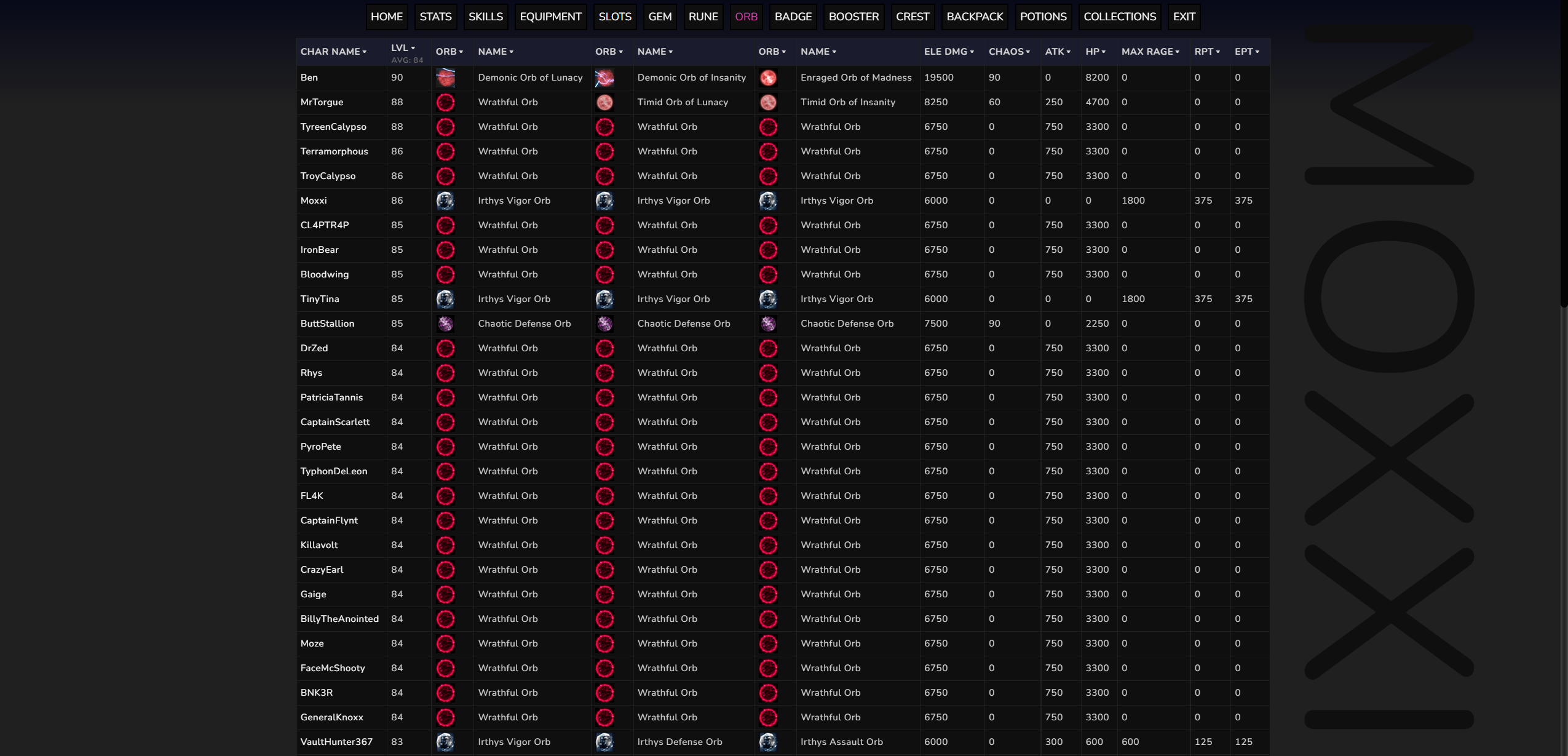 PAGE 18: BADGE DATA INCLUDING THE NUMBER OF BADGE REPS CURRENTLY AVAILABLE. ALSO NOTES WHICH CHARS HAVE CORVOK AVAILABLE TO ATTACK AND THE BOTTOM-LEFT TOOLBAR PROVIDES EASY COPY/PASTE FOR ATTACKING CORVOK OR UPGRADING BADGES.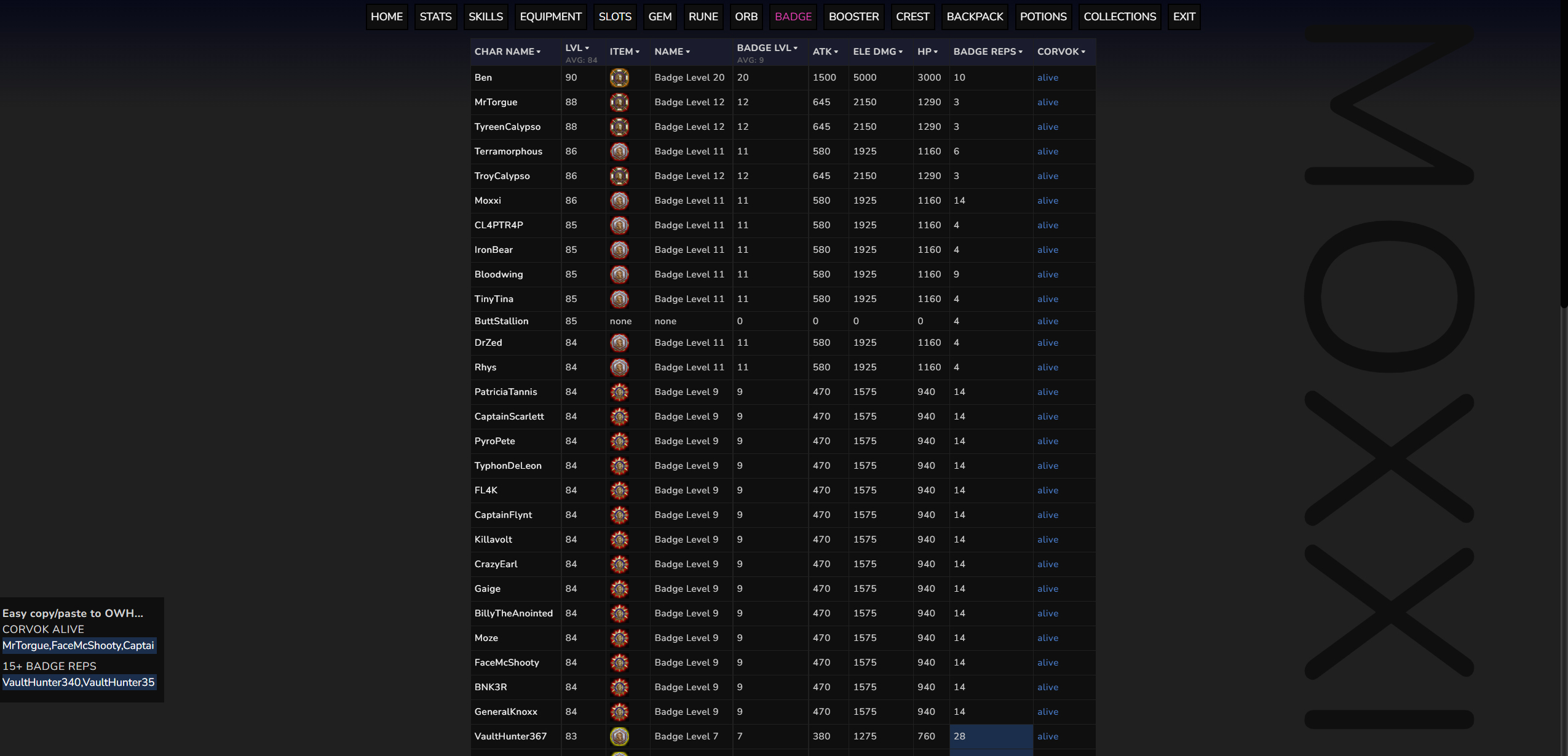 PAGE 19: BOOSTER DATA AND TIME REMAINING.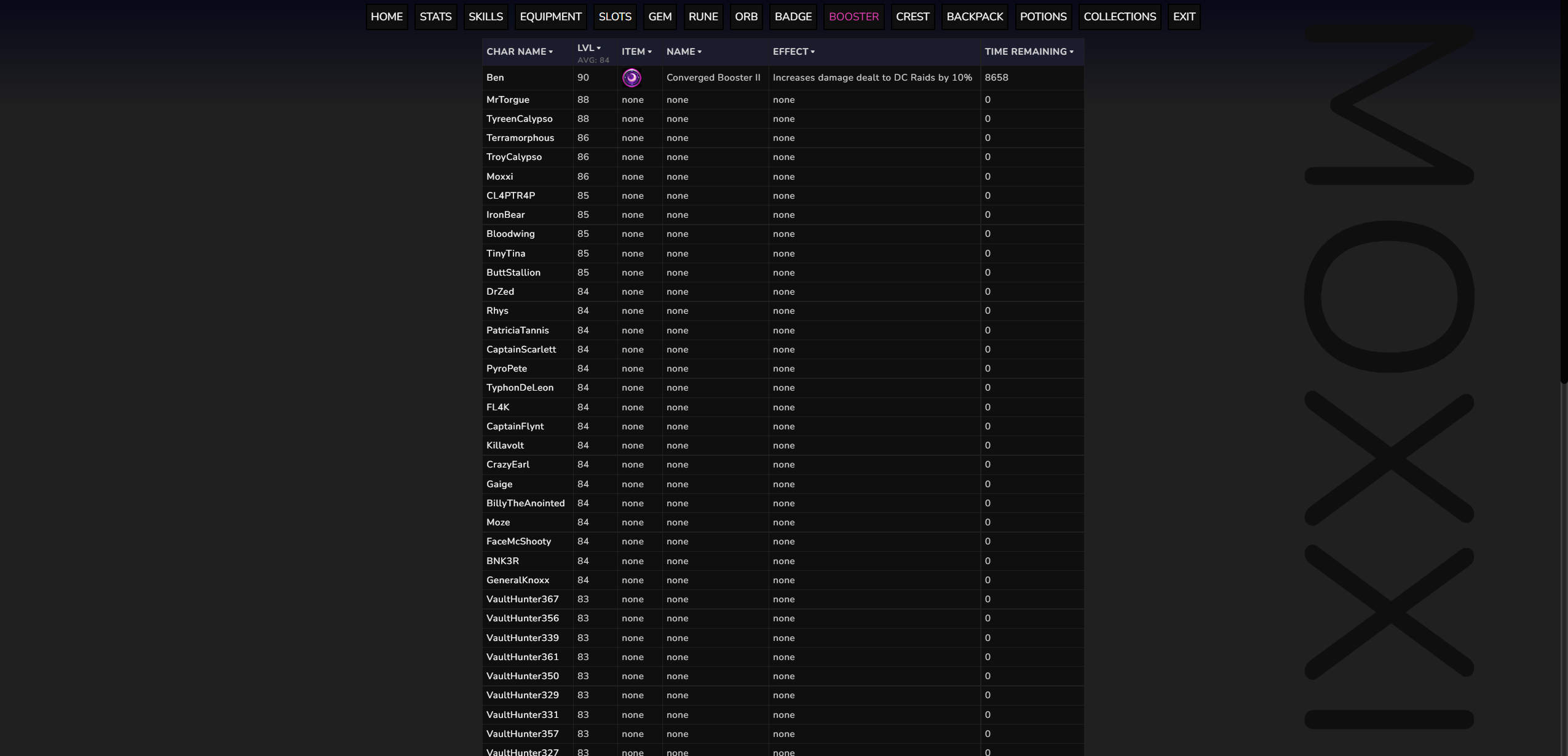 PAGE 20: SKILL CREST DATA INCLUDING FRAGMENTS AND SKULLS AVAILABLE. THERE IS ALSO A NOTIFICATION FOR WHEN HOVOK IS ALIVE AND HELPFUL COPY/PASTE LISTS IN THE BOTTOM-LEFT TOOLBAR FOR ATTACKING HOVOK AND UPGRADING CRESTS.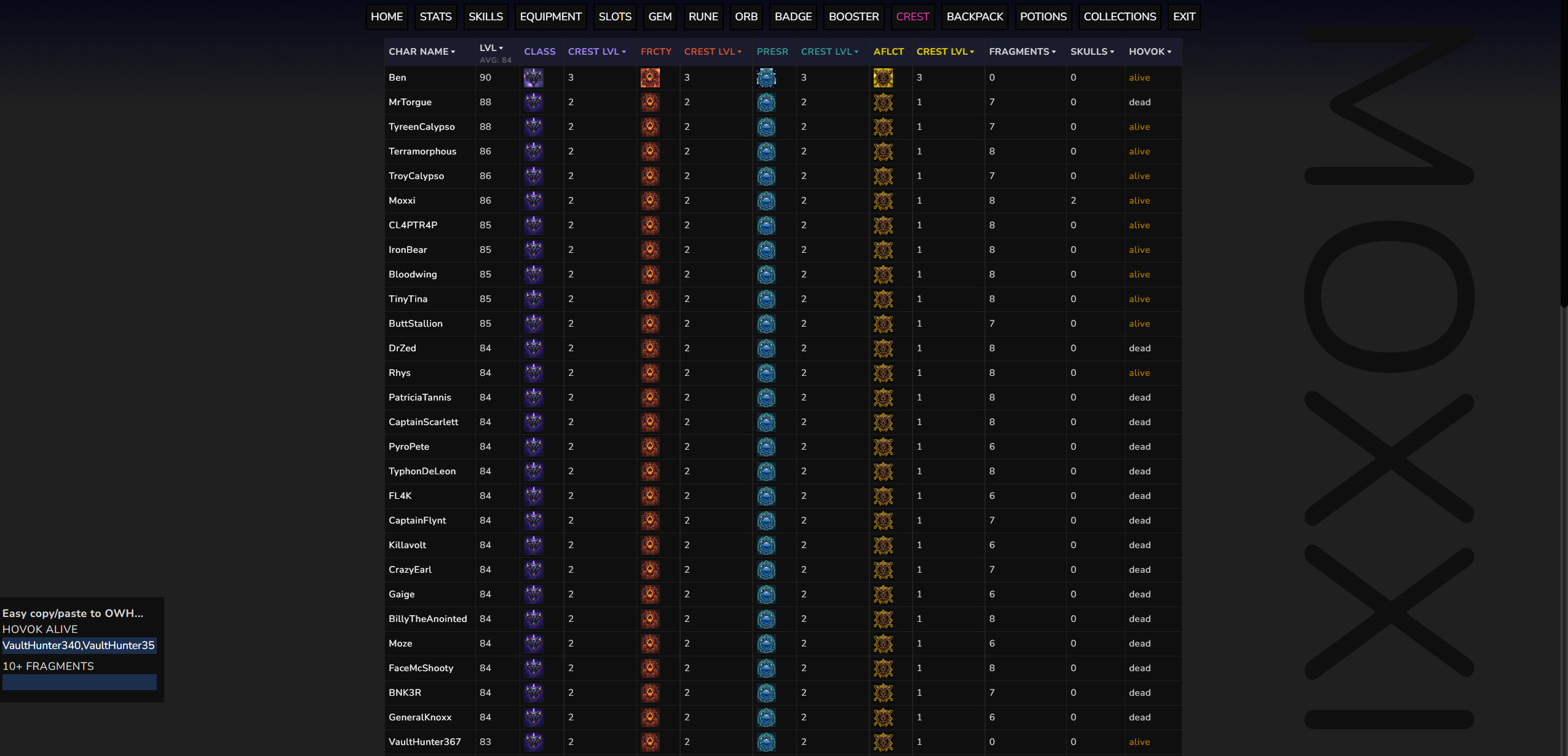 PAGE 21: DATA ON SPECIFIC ITEMS COMMONLY FOUND IN BACKPACKS.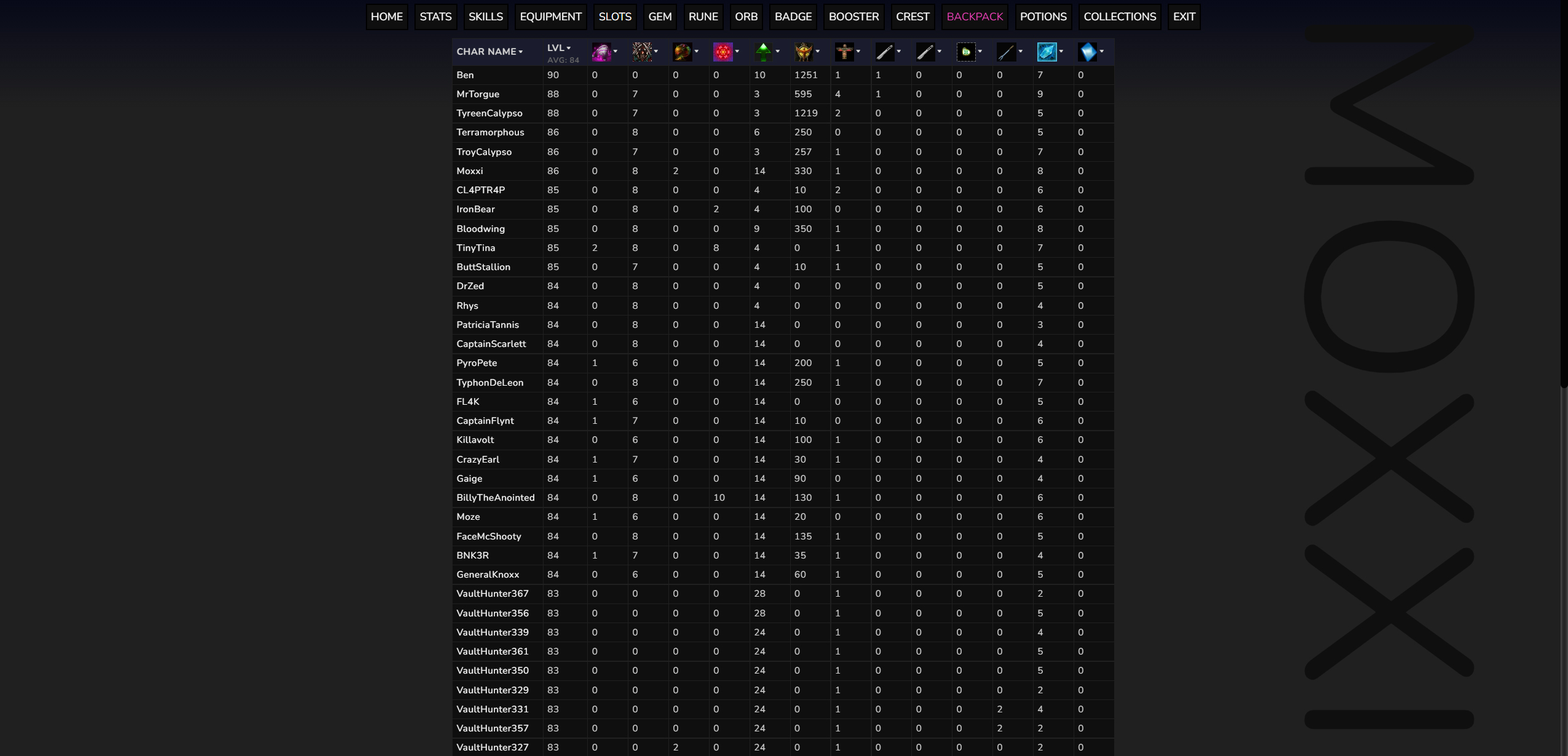 PAGE 22: DATA ON PLAYERBOUND POTIONS COMMONLY FOUND IN BACKPACKS.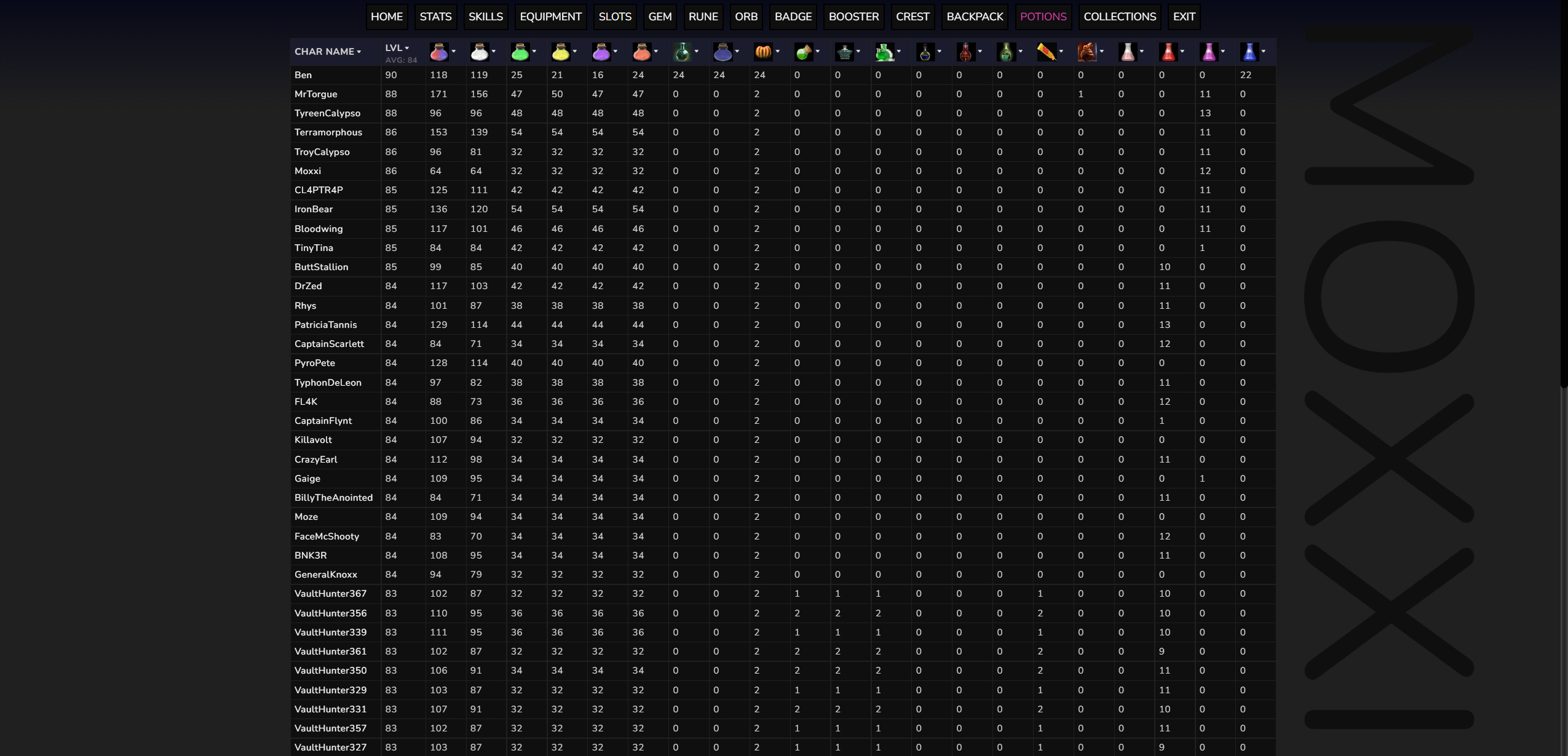 PAGE 23: PROGRESS FOR EVERY COLLECTION QUEST AND OVERALL PROGRESS FOR EACH CHAR.